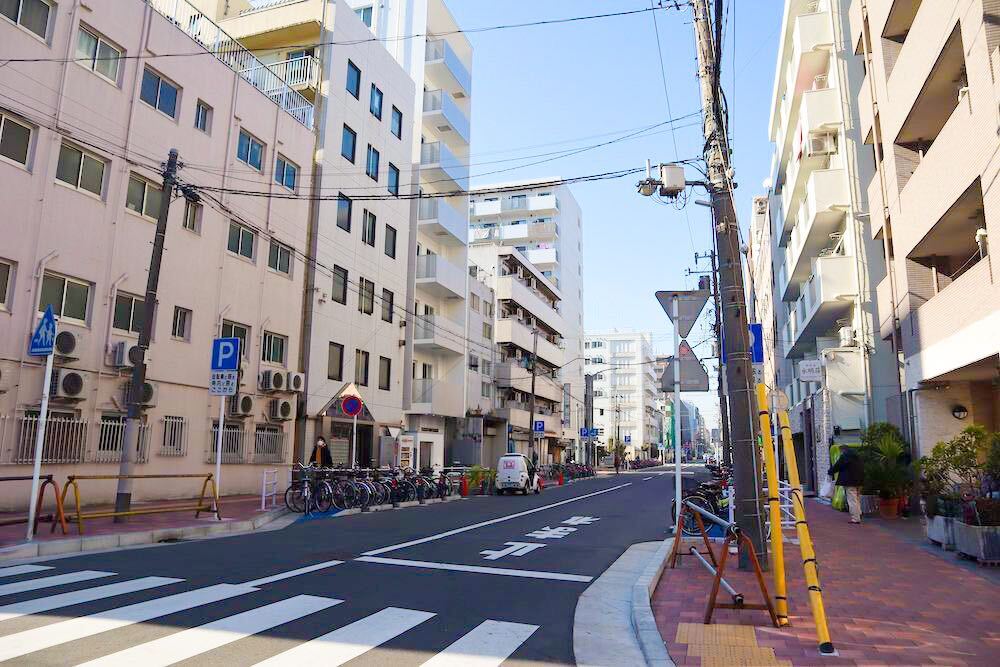 Because of the spread of COVID-19, there are more and more opportunities to rethink what life is about, what we live for, and what kind of lifestyle and work style is ideal.
Because of the spread of COVID-19, there are more opportunities to rethink what life is about, what we live for, and what kind of lifestyle and work style is ideal.
Around the world, "Green Recovery" and "Build Back Better" have become keywords in the economic recovery from the pandemic. Both of these mean that we should notice the current economic model has been destroying our environment so that we should reform the society with a new economic model in which the environment is regenerated, and social justice is realized.
In the recent global trend, the concept of "well-being" is getting strong attention. "Well-being is the statement of being physically, mentally, and socially healthy". Although it is sometimes translated as "happiness" in Japanese, well-being is different from "Happiness". "Well-being" primarily focuses on long-term and lifetime happiness rather than short-term or instantaneous happiness.
The Circular economy's ultimate goal is to create a cycle of well-being for individuals, communities, and society through the regeneration of the environment and communities. To this end, Circular Yokohama held an event to think about an ideal community to realize well-being in Yokohama.
We explored Kotobuki-Cho, Naka-Ku and unraveled the history and culture of the city.
*This event is part of Circular Economy Plus School, which is organized by Circular Yokohama in collaboration with the YOKOHAMA Living Lab Support Office and the NPO Yokohama Community Design Lab.
A town that has undergone rapid changes, Kotobuki-Cho
On February 6, 2021, we held a fieldwork event at the Kotobuki Collaborative Space in Naka-Ku, Yokohama.
Non-Profit Organization Yokohama Community Design Lab runs the Kotobuki Collaborative Space by collaborating with the city of Yokohama. Besides coordinating the community space and providing consultation to volunteers, they promote interactive co-creation activities and projects with local community associations, NPOs, companies, universities, and research institutions and support.
This time, we had Mr. Noa Kobayashino from NPO Yokohama Community Design Lab as a guest teacher.
Mr. Kobayashi also works as a community development planner and environmental designer. His interest in public welfare and human rights led him to start working as a member of the Kotobuki Collaborative Space.
He gave us a talk about the culture and history of Kotobuki-Cho. Afterward, he guided us around Kotobuki-Cho.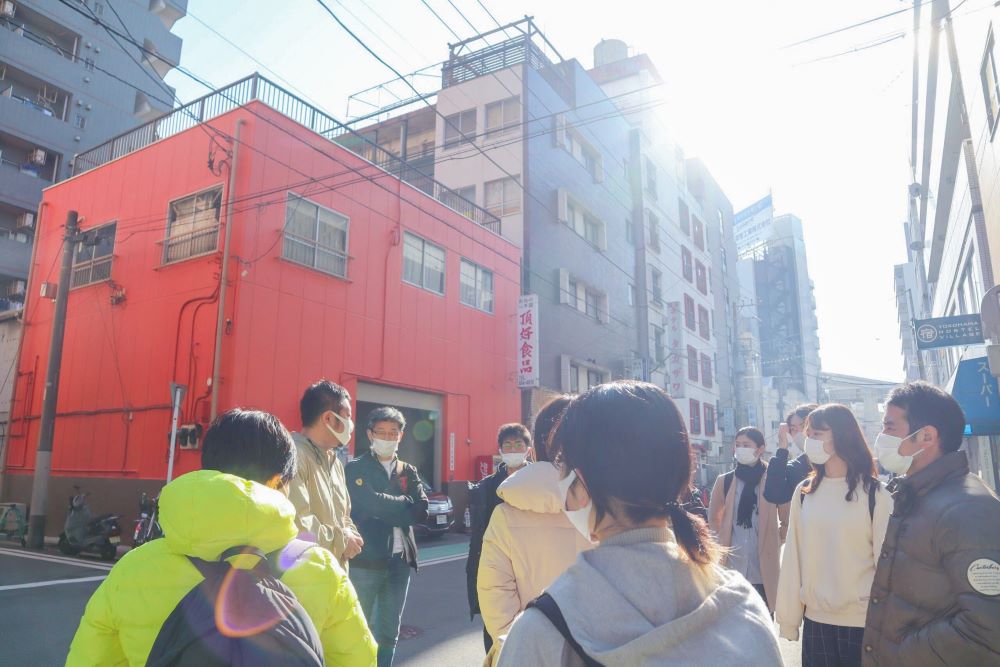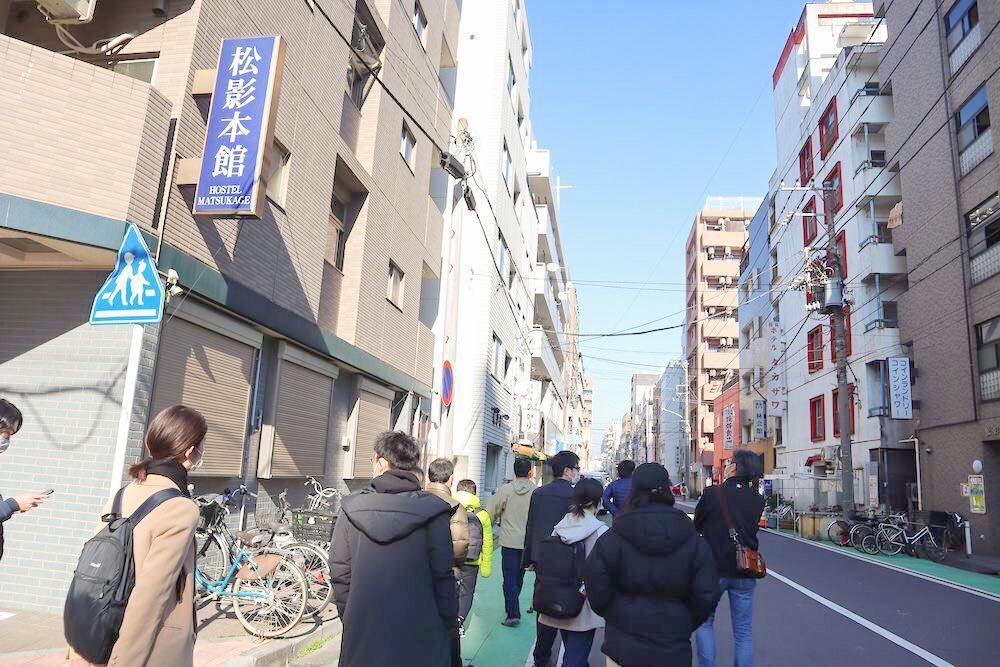 What is "well-being"?
After the walk, we discussed what well-being means to each of us in small groups.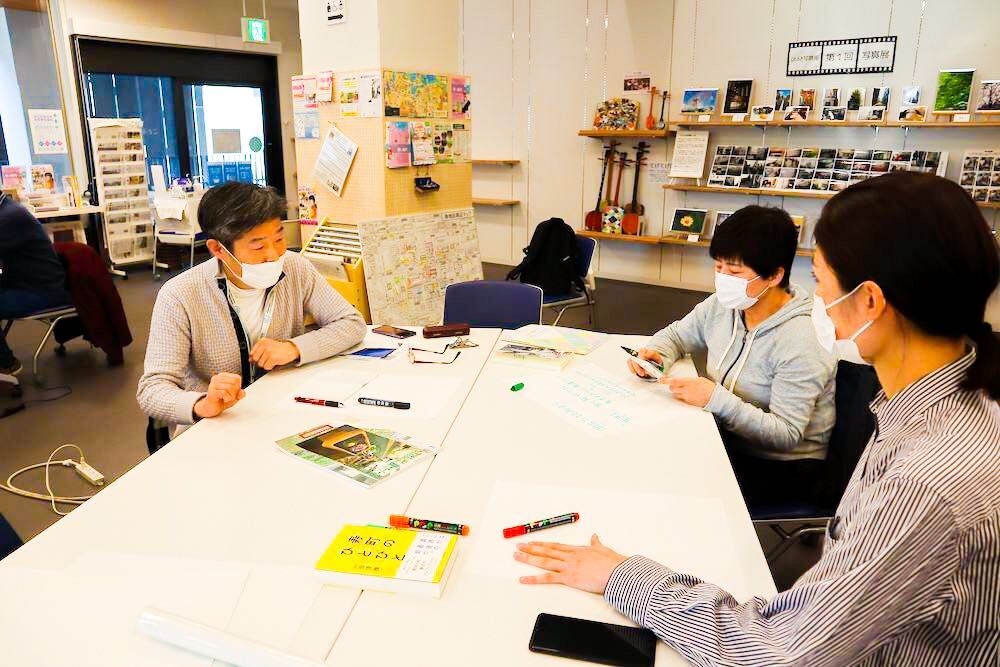 We shared what we had learned and felt through Ms. Kobayashi's lecture and the city walk.
At the end of the group work, each group summarized their discussions and opinions on paper. Then each group gave a presentation on what they had thought and discussed.
In the presentations, there were different perspectives and summaries in terms of "well-being."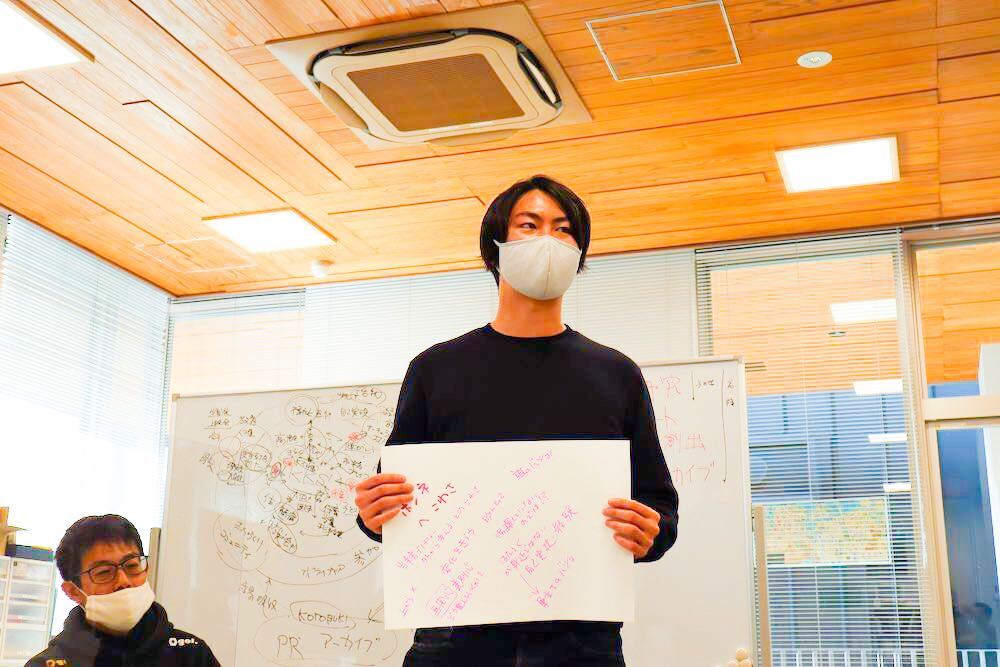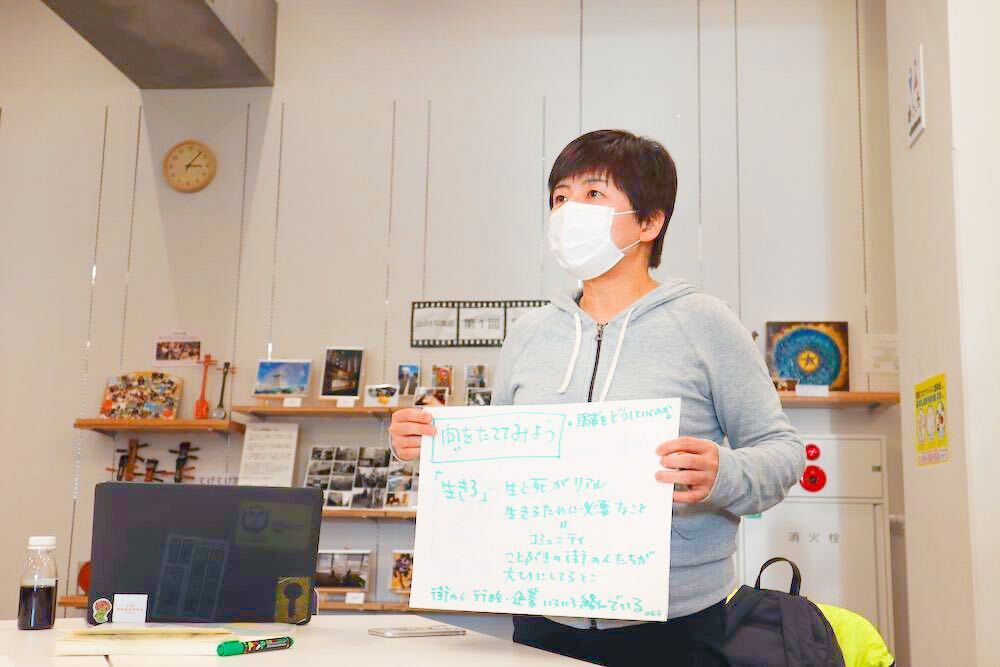 "Most of the time, those people who are engaged in town planning and those who live in the city are not the same. It makes me think about who should be happy through city and community development."
"I realized that the culture and the history are not very simple, because various people come and go all the time and our economy has the complexity of their interests. Even if we say we are aiming for a "better city," we need to recognize that "happiness" for someone could be "unhappiness" for someone else."
"I am afraid to speak my honest feelings out because I am an outsider of this city, so I wonder if I am allowed to speak up. However, thinking of that led me to consider another question; how deep should we feel about both insiders' and outsiders' perspectives when we think of community development?"
Through their reflections on well-being and happiness, many participants discovered new issues to consider from their perspectives.
The event concluded with a discussion on the relationship between the circular economy and well-being.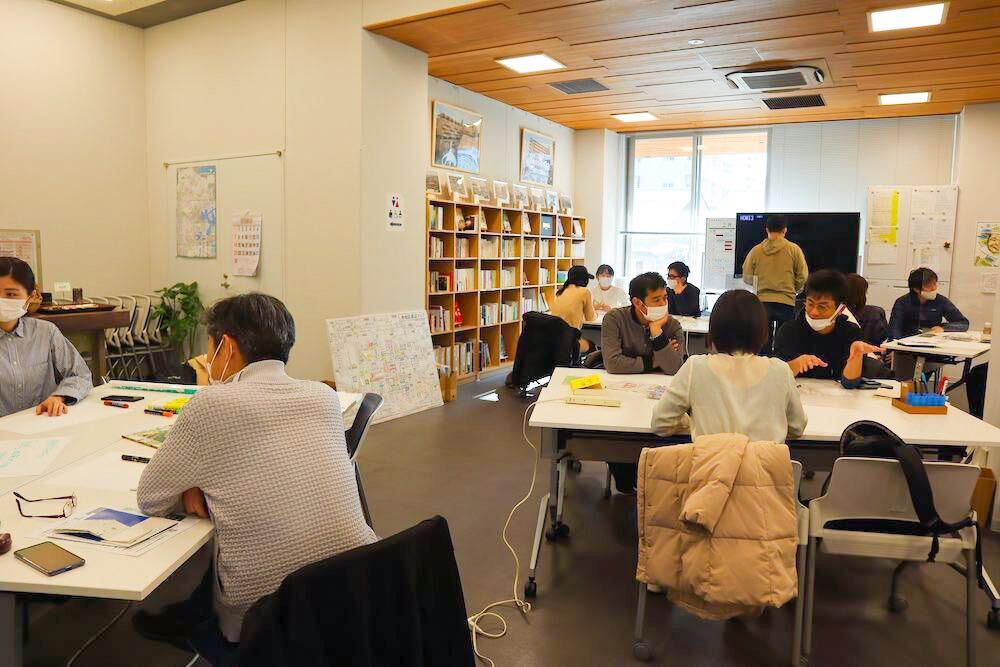 What do happiness and well-being mean? There is no correct answer to this question. Each of us has different definitions for well-being.
The circular economy could be one of the approaches to realize our well-being. Hopefully, the participants have been able to bring back what they thought and their issues from this fieldwork and use them as hints to find their well-being.
Thank you to all the participants and the members of the Kotobuki Collaborative Space!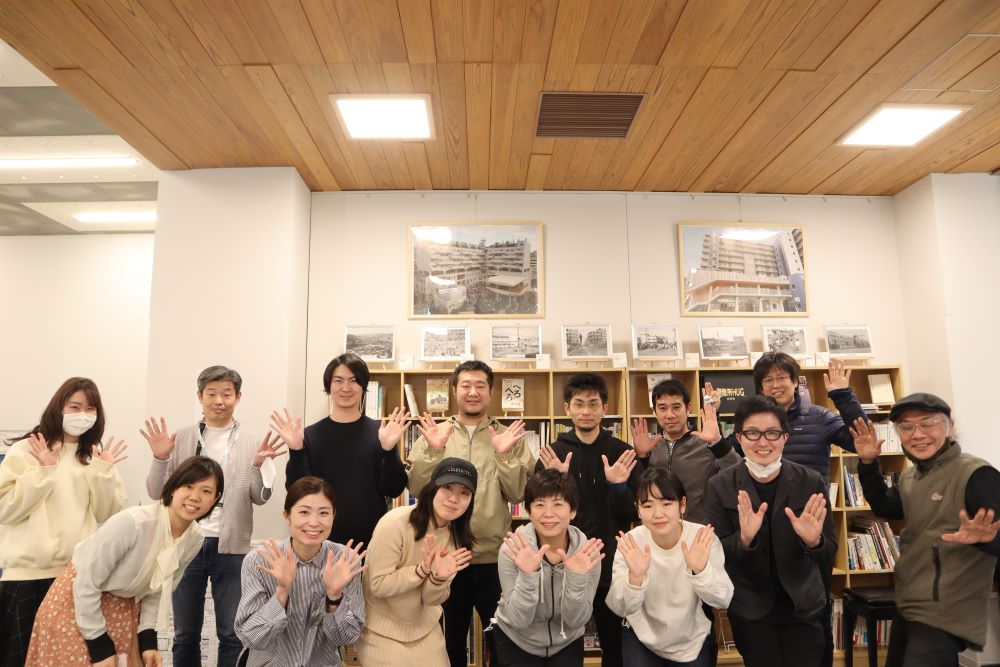 Editor's note
Kotobuki-Cho is located about a 10-minute walk from JR Ishikawacho Station. The other side of the station is the Motomachi/Yamate area, which is considered a high-end residential area. Also, the Minato Mirai area, which has the Yokohama Landmark Tower and the "Cosmo Clock 21" Ferris wheel, is just a stone's throw away. One of the surprising things is that those luxury landscapes and a town like Kotobbuki-Cho are in the same area.
At this point, we can see Kotobuki-Cho and the area around it holds the key to realizing the circular economy and well-being.
[Reference]the Kotobuki Collaborative Space(Japanese)
The following two tabs change content below.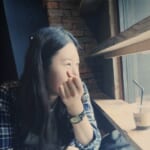 Rina
Rina is a positivity enthusiast who loves her hometown, Yokohama, and her second home, the U.S. She finds joy in making others happy through her creativity.